Lighting Control & Automation
State of the art lighting systems
Lighting Design and Control
Lighting design and control is an art form that is now one of the most important elements of interior design. As lighting designs have become more intricate and detailed, there is far more scope for having a significant affect on the atmosphere of your home. 
Subsequently, this requires an automated lighting system so that user operability remains simple and stress-free. Both natural and artificial lighting can now be automated and controlled with ease and finesse.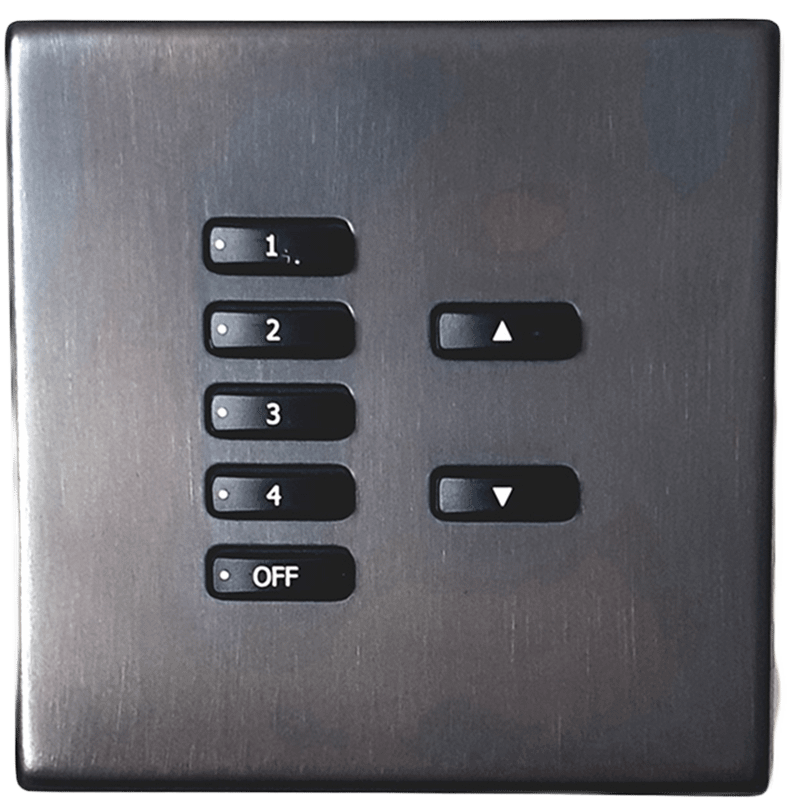 Lights, curtains and blinds can be grouped together and engaged by the touch of a single button. Faceplates are available in a wide variety of finishes to suit any interior or surface as well as interchangeable modules and customised etchings.
Such a powerful lighting design system offers indisputable elegance and complete control across an entire property, either from one of the wall mounted keypads or your smartphone or tablet. The programmable features provide far more assistance than that of a standard light switch.
Each keypad can hold multiple buttons and each button can control any number of circuits. When programmed accordingly, each button can then operate different groups of circuits by varying the degree of the 'press and hold' function.
Ultimately, the primary function is to maintain the greatest efficiency and simplified management of an automated lighting system.
This means there are no longer any technical limitations and therefore, the lighting design can be as elaborate or extravagant as you wish.
What's most impressive is the ability to create a mood, otherwise known as 'scenes' by manipulating the brightness, timing and grouping of circuits. This can be pre-programmed by us and later easily modified by the user via the intuitive app or your automated control system.
'House All Off' and 'Welcome Home' are two common scenes that demonstrate the pure convenience of an automated lighting system. 'Good Morning,' 'Good Evening' and 'Night Time' are other examples of scenes commonly allocated to keypad buttons.
Personalised scenes and customised button functions may seem a little ostentatious at first but in reality, they are vital for the effective management of today's lighting systems.
The logistics of installing an automated lighting system are most successful when all parties are fully informed from the point of conception.
We'll always offer free and impartial advice.